ROADSHOWS FOR YOUR MARKETING MIX
The modulbox is the ideal promotion vehicle for live actions.
Key points
that stand for a roadshow with the modulbox

More attention
Gain more attention for your brand in a lively way through decentralised campaigns. Roadshows allow you to reach target groups directly and make a real impact. The live experience remains longer in the memory, as the experience is unique, emotional and very direct. For this purpose, the modulbox can be fully branded with your customer logo and in CI colours. Illumination complements the radiance of your presentation.

Complement to the fair
ou don't just want to present your innovations at a trade fair every two or three years. No problem, with a roadshow you have the opportunity to reach your customers more frequently and in a targeted manner. What used to be an in-house exhibition is now the pop-up stand. The roadshow thus offers an alternative and an additional added value to the trade fair. You can also reach alternative groups. Not only the management members of a company come to your pop-up stand, but also team leaders and trainees can benefit from your visit.

Promotion campaign
How do temporary promotion campaigns work? A lot of attention is to be generated for product launches. This means that a promotion becomes a unique experience.
This generates a lot of interest among the target group. The modulbox as a roadshow tool, similar to an event container, is an ideal space for brand activation, product launches, but also for sales training.
Participate in marketing events throughout Europe and bring your mobile exhibition stand with you.

Sustainable and durable
The modulbox is characterised by sustainable and long-lasting use. We take care to use materials in a resource-conserving way. Our products and materials are recyclable and therefore sustainable. This means that the individual materials of the modulbox can be separated. Afterwards, they are specifically fed into the recyclable material cycle. Certain materials can be processed by us and then reused.
In doing so, we pay attention to environmentally friendly processes.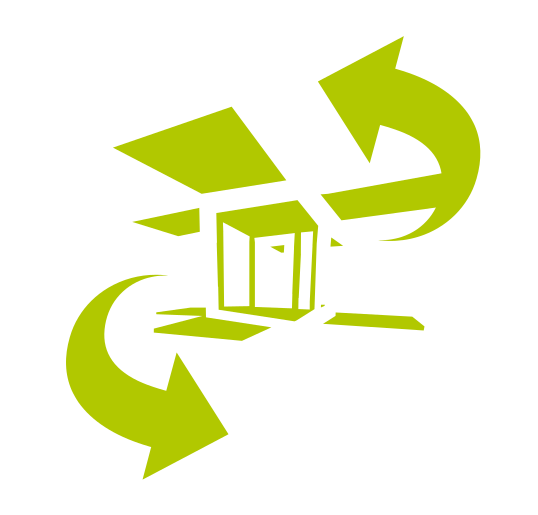 Function and service
The modulbox is a real alternative to show trucks or event trailers. The reason is the easy transport. An integrated lifting system simplifies the assembly and disassembly of the modulbox. This eliminates the need for costly transport by truck and loading crane.
For a road show, the modulbox is transported on a configured trailer and can be operated by one person. It couldn't be simpler.
This allows you to plan your event or roadshow independently, cost-efficiently and flexibly. We would be happy to support you with the organisation and planning.

Produced in Germany
We manufacture the modulbox in our factory in Berlin, Germany. Various trades work in their own workshops. This has the advantage that we have high quality and short distances. The customer also benefits from this.
This makes it easy to implement special designs and customer wishes.
High social and environmental standards are important to us. We are always working on improving our products and our environment.
Pop-up roadshow – the brand experience
The perception of your brand is driven by a hybrid mix these days. Digital is important, influencers work for a certain target group, but also the live experience at a roadshow is of enormous interest for a brand. Studies show that direct2costumer marketing, also called d2c, is important. The appropriate charisma, the valuable contact and the live interaction remain sustainable. Start your contemporary pop-up roadshow with modulbox. To successfully run a roadshow, we are happy to offer our services and support to minimise the organisational effort for you.
Today, sustainability is a decisive factor in the choice of marketing strategy, so the tool should also be economical. With the modulbox systems, we offer a very flexible and cost-efficient roadshow mobile. A mobile space, quickly assembled by one person, moved by trailer and set up without a truck or loading crane – it couldn't be easier. For festivals, city festivals, sports events, sponsors, outdoor and in-house exhibitions.